One of my new least favorite chores is cleaning up Mary's splat mat after she is done "eating" a meal. At this point she's still mostly just playing with the food and enjoying learning about the different flavors and textures. Since not much is making it into her a lot of her meal ends up on the floor. I love the mat, but I don't much enjoy wiping it clean after every meal. I do feel like a good old-fashioned housewife as I bend on hands and knees scrubbing at the floor though. :)
Sometimes I'm tempted not to offer her any food at a particular meal because I'm not looking forward to the clean up but she enjoys it so much and is so sad if she doesn't get to sit up with us. And I'm really not hard to convince when she pulls out that adorable lower lip. I can't seem to find a good example of the exact face I'm thinking of, but this one is fairly close: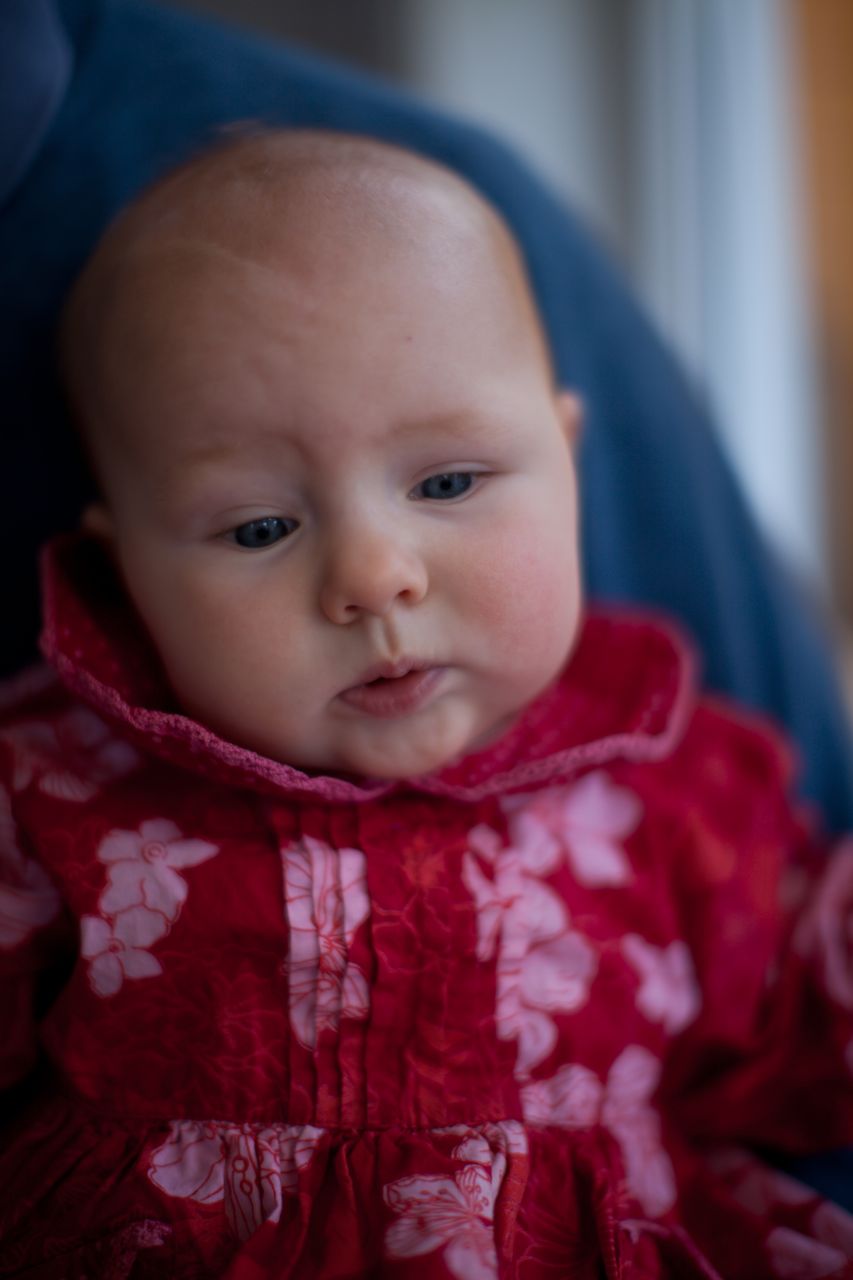 Dinner Tonight:
Reindeer Burgers - (Mary's first taste of a burger, I'm now wondering what she will think at Christmas time a few years from now after she learns to love eating reindeer here in Norway. It's a fairly common meat here and I believe it is farmed in northern Norway. Sadly, the burgers also had some beef and pork mixed in so Woodley wouldn't eat them)
Leftover Chicken - for Woodley
Broccoli with olive oil and white wine vinegar
Bread with butter and jam
Leftover Rice
Green Salad with slices of Brown Norwegian Cheese on the side
I need to re-charge the iPad so I can go back to browsing my favorite cooking websites when Mary wakes up in the night. I've found that's the best way to find new recipes to try and helps make the 5 to 7 nightly wakings much more endurable. Thankfully she has started sleeping for some 2 - 3 hour stretches. I'm really hoping they increase!
~ElizabethRose~