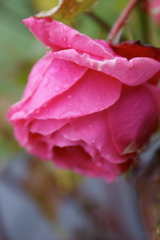 Above is a picture I took in Port Ludlow, Washington about a year and a half ago when we were searching for the perfect spot to hold our wedding. I just love roses, and this one was so beautiful in the wet northwest morning. 

This weekend I am attending a Postpartum Doula Workshop put on by by DONA International in Portland, OR. Last Thursday morning Woodley and I packed up the car, attended his harp lesson together, and hit the freeway. We left the Bay Area around 11am and by 11pm we had reached Portland. My class started the next morning at 7:30am so we went to bed right away. 
So far the workshop has been very fun and informative. There are just ten ladies in the group and it has been so fun to get to know everyone a little bit. Today we spent a lot of time talking about postpartum mood disorders and breastfeeding. We also did some fun exercises with stuffed animals and dolls to practice different breastfeeding positions. 
While I've been in training, Woodley has been having fun spending time with Darrick, his friend from high school who now lives in Portland. They went to OMSI today and I hear it was a lot of fun. 
Tomorrow night we're planning to drive up to Bellingham, WA to briefly visit my mom. I'm hoping I'll be able to get together with some high school friends myself. :) 
Well, I should head to bed. Tomorrow will be an even earlier morning than usual due to daylight savings. Hopefully it won't be too hard to get up! 
~ElizabethRose